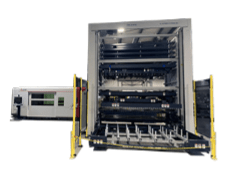 Our Mitsubishi GX-F Laser and Automation provides us with unmatched accuracy and speed.
ForMaster's is a Cleveland, Ohio based roll forming manufacturer who has supported the tool and die and OEM industry for over 25 years. We offer a wide range of services to the automotive, shelving, construction, appliance, technology, and heavy machinery industries. From design to production, we offer the complete process!
We have the capability to manufacture metal parts of all shapes and sizes. Our tooling is produced in-house using state-of-the-art waterjet, CNC machining centers, wire EDM machines, and a heat-treating furnace.
ForMaster's engineering department uses a Zeiss Coordinate Measuring Machine for advanced measuring and testing. The combination of our CMM and advanced CAD software guarantees perfection in each piece we produce.
Our exciting newest addition is a 10KW Mitsubishi fiber laser with a 6 shelf auto-loading tower. And we've complimented this by adding two new CNC MC Press Brakes
For more info, give us a call today!
Email us for a free quote: quoting@formasters.com