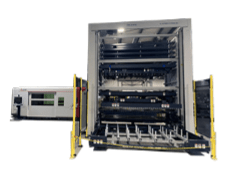 Our Mitsubishi GX-F Laser and Automation provides us with unmatched accuracy and speed.
Laser Cutting and Automation
Formasters has embarked on a new division of Metal Processing. When we viewed the new Mitsubishi 10,000 Watt Fiber Laser we were very excited to say the least. The speed is unparalleled in this technology. The edge quality is comparable to a machine finish. The accuracy is phenomenal. It is able to machine any ferrous or non ferrous material up to 1 inch thick, again with unbelievable edge quality. Formasters also added a Stacker Loader that is able to break a lubricant suction and only retrieve one sheet of material. A sensing unit then measures the thickness before being loaded for cutting. These features make it available to run lights out with a high degree of comfort.
Complimenting the high output Laser we added 2 Mitsubishi CNC Press Brakes with basically every option imaginable forming up to 275 tons and a 10 foot long capacity. Electric over hydraulic they are able to move rapidly to the metal then the hydraulics takes over to form parts to a high accuracy. Independent CNC back gauges provide programming of irregular parts to produce engineer's models. Most tooling is readily available for customer needs.
Formasters has come full circle as we had a welding department. But now we purchased a Robotic Welding Cell to achieve welded assemblies with greater accuracy and true production welding. The Cell can be programmed via computer or a very unique feature of manually positioning welder at a start position then hitting enter and producing a program using a precise fixture. The fixture is designed and produce in our tool room by our own engineering department. We can achieve greater accuracy and true production welding. We have also invested in a proprietary technology that produces a weld in the material similar to a tig weld producing a very fine weld in aesthetic needs.
The new Laser Fab Department has enhanced our other metal forming areas. One advantage is our ability to make quick prototypes for customers in the stamping area while concurrently producing tooling for a quick turn key process from inception to part qualification.
The Roll Form area can use the same concept for parts up to 10 foot long or by welding multiple lengths together to provide testing before expensive tooling is needed to produce higher quantities after conception and marketing need.
Our Engineering Department has been able to utilize the new Fab Department to develop out blank sizes and difficult shapes. Again the first parts and how they form in secondary operations. We are able to also produce some tooling components from shims for existing tooling to plates up to 1 inch thick.
We are now producing accurate fixtures and checking fixtures on the Laser due to its very accurate cutting. Weldments designed with interlocking pieces for less labor and accurate pieces are also a great feature.
We encourage you to take advantage of our one stop metal processing facility to produce your ferrous and non ferrous parts from inception to fruition.
Please give us a call to discuss you needs.
We still answer our phones in a personnel fashion!