Northeast Ohio Roll Forming Experts
Our History
Founded in 1993 in Mentor Ohio, a suburb of Cleveland Ohio, ForMasters specializes in CNC Machining and water jet cutting services. We're roll forming experts and love what we do.
ForMasters is an industry leader in roll forming, roll formed steel, tool and die, and stamping processes. Our engineers use the latest CAD/CAM software to design products to exact specifications. Our Coordinate Measuring Machines measures the physical geometrical characteristics of an object, allowing us to deliver exact specifications each and every time.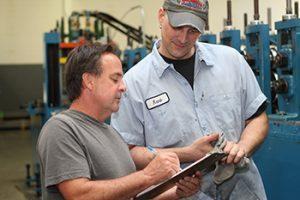 Our team is highly dedicated to each and every job. We have implemented a rigorous maintenance system schedule, which keeps our machines running smoothly, with less down time. This efficiency is passed along to you our customer, and results in faster turn around, and higher customer satisfaction.